Dead Belt - A Solo RPG for Space Cowboys
This page is for the solo ashcan of Dead Belt.
If you would like to get your hands on the expanded game with co-op and rivalry modes and more, click the following link because Dead Belt is LIVE on Kickstarter through 5 October 2022!

* * *

You are alone out here.
But that's the way we like it. Out here in the Dead Belt, surrounded by the carcasses of space-faring history ripe for plunder and picking, another heartbeat means enough time for someone else to give your justly prised and prized salvage the old hairy eyeball. That means trouble, and there's enough of that out here as is.
Not everyone's got the temperament to be a Belter. Plenty of folks crack when the grav cuts and the lights go off. Plenty more jump at shadows when their flash starts to flicker. Others are too busy watching their O2 to see opportunities. Some folks just don't have the know-how to rig a three-channel override through the primary induction boot shroud to get to the juicy payday underneath. But that isn't you. If you can only rely on your gear, your smarts, and your grit, you're going to make a stack of cred out here among these hulks.
Or you're going to die trying.
Either way, you're going to do it alone. No one's coming looking. No one knows you're here.
Dead Belt is a solo strategy RPG. It's about skillful and desperate scavengers picking over the remains of junked starships in hopes of a juicy payday.
You will need:
A deck of common playing cards.
Two six-sided dice (d6).
A few small tokens: one to represent your character, and three or four to mark trouble when it rears its head. You can use other dice, coins, or whatever you have laying around for tokens.
A printed (or drawn-out) character sheet, provided in the Player Kit.
Optional: A printed copy of Dead Belt for playing away from a device.
The core gameplay loop revolves around building a Belter and taking them out into the Belt to scavenge dead, randomly-generated starships. You'll deal with all the dangers lurking onboard these starships, push your luck, and finally return to spend your hard-won booty to secure better equipment, improve your skills, pay down your crippling debt, and hopefully maybe eventually set yourself up to live out your dreams far from the Belt.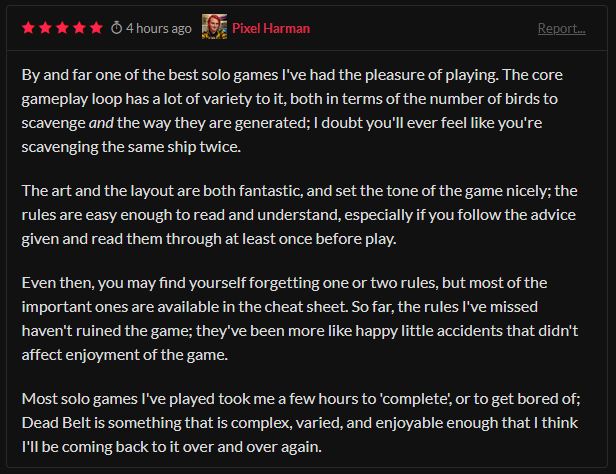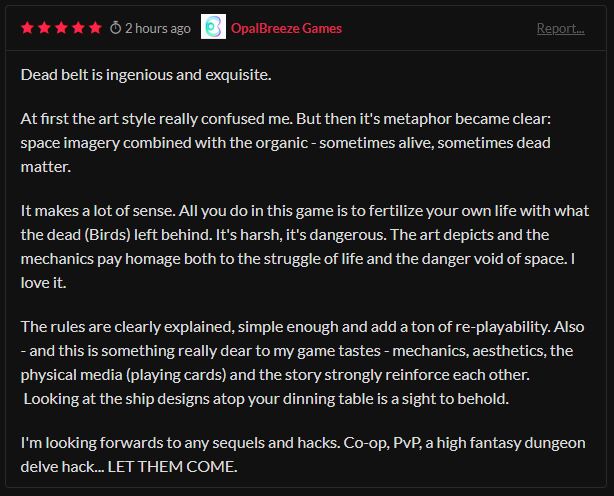 --

For more Dead Belt, check out our space-folk horror anthology set in the Dead Belt universe.
Purchase
In order to download this game you must purchase it at or above the minimum price of $12 USD. You will get access to the following files:
Dead Belt - Player Kit (US).pdf
942 kB
Dead Belt - Player Kit (A4).pdf
950 kB
Dead Belt Patch Notes.txt
2 kB
Community Copies
Support this game at or above a special price point to receive something exclusive.
Buddy Breathe
We're all gasping right about now, and the tanks are running dry. It's understandable, Belter. If you're cagey about pledging your hard-earned dollars, the ones you might need to put up toward rent or food or the other necessities of life, grab a copy and have fun, on us. If you like it and want to donate later to say thanks when circumstances change, we'll put up another community copy for someone else to enjoy.
We'll also be adding community copies whenever someone purchases Dead Belt above the posted price.
It's cold in space, not in our hearts.