HEDGE - Illuminated by Lumen
A downloadable Role Playing Game
The Fey were here before we were.
They have not forgotten.
Their forms are multitude. Their powers are incalculable. Their mastery of the world, the Wyld, that they fashioned for themselves when nature rebelled against them, is absolute. They press against the edges of our world, watching. Waiting. They pick at the seams and wait for the barrier between us and them to unravel. They are coming. All that stands between them and us is the Hedge. The barrier of Nature's magic which keeps them at bay is weakening. In her agony, the Hedge calls forth her champions.
"My savior, my darling, my cure. Stop at nothing."
Once, you were merely human. Once, the Fey would have looked at you only as a thing to be bent or broken. Or eaten. Now the Hedge has chosen you to stand, to fight, and to shine. Harness the powers of nature, upgradeable weapons, and stolen Fey magic, to fight against hordes of scary faeries.
Hold tight to your humanity as you take the fight into the depths of the Wyld, facing down the Court of Air and Darkness in the heart of their power with six iconic Wardens, 102 awe-inspiring powers, 65 beefy pages of rules and vague-but-evocative lore, and the robust, power-fantasy fueling core mechanics of LUMEN. Hold the line against terrifying foes, collect powerful Fey Grafts, and save what's left of the world from a dark fairytale apocalypse.
Get more HEDGE:
* The free expansion zine, HEARTH, is packed with Downtime activities, Factions, and the Court of Thorn and Bloom.
* The first supplement zine, HORDE, includes a new Warden, animal companions, gm tools, as well as the Court of the Claw, and the Court of the Makers.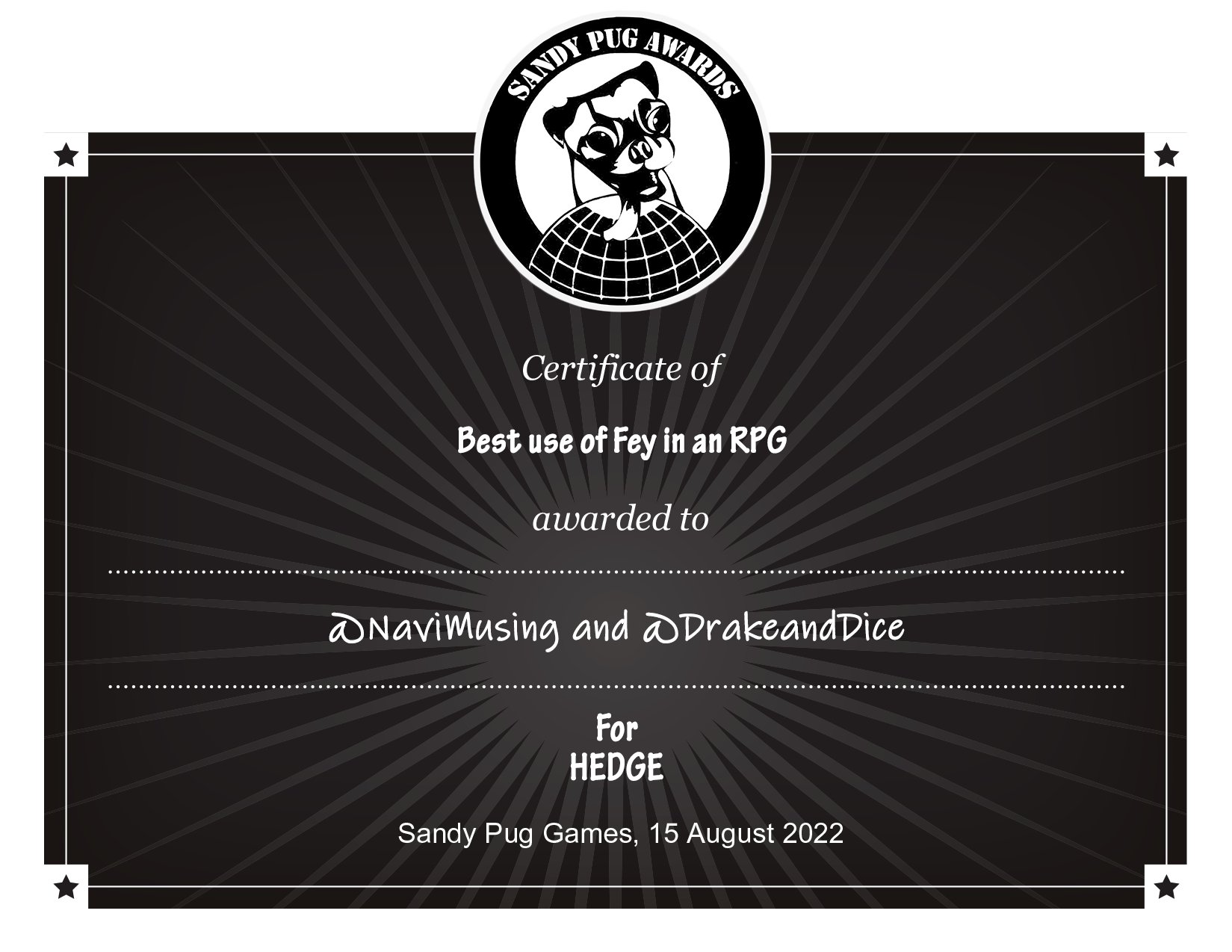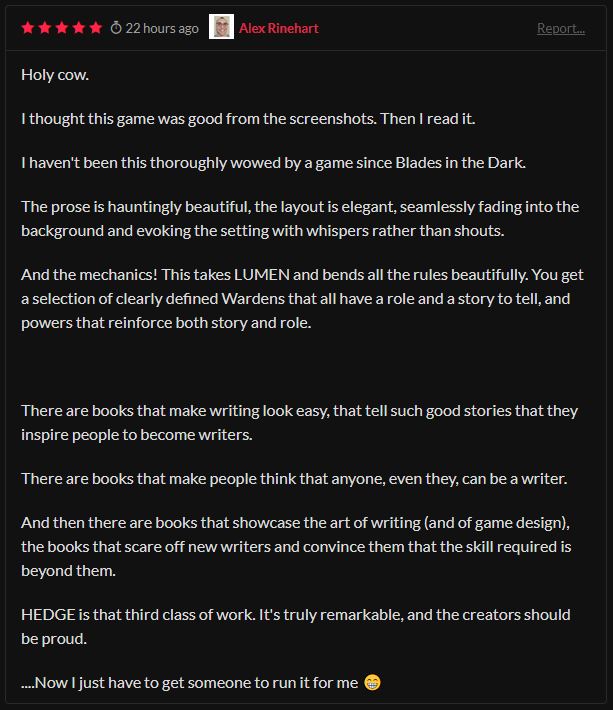 * * *

This game is Illuminated by LUMEN, based on the LUMEN RPG system designed by Spencer Campbell, Gila RPGs. This game is in no way affiliated with Spencer Campbell or Gila RPGs.

Purchase
In order to download this Role Playing Game you must purchase it at or above the minimum price of $15 USD. You will get access to the following files:
Community Copy
Support this Role Playing Game at or above a special price point to receive something exclusive.
Community Copies
If you're cagey about pledging your hard-earned dollars, the ones you might need to put up toward rent or food or the other necessities of life, grab a copy and have fun, on us. If you like it and want to donate later to say thanks when circumstances change, we'll put up another community copy for someone else to enjoy.
We'll also be adding community copies whenever someone purchases HEDGE above the posted price.