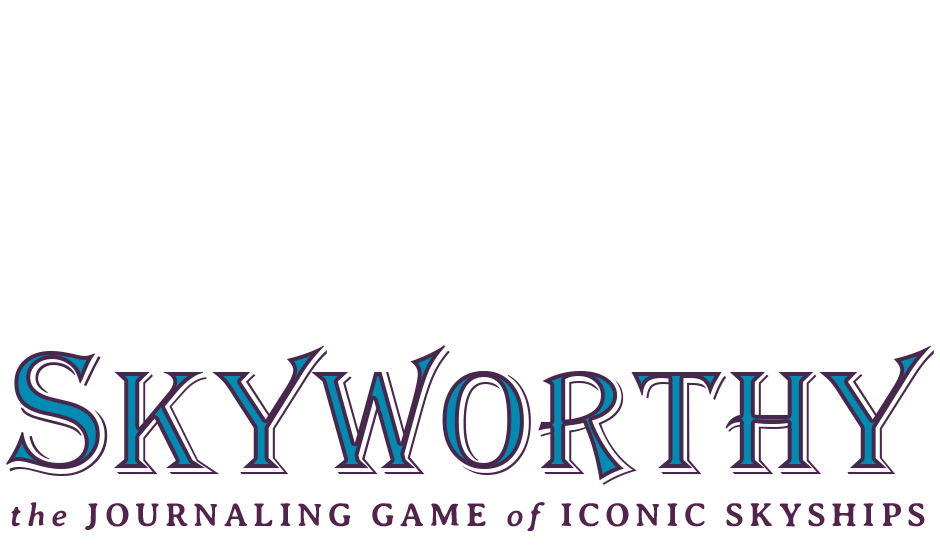 Skyworthy (Physical Copies Sold Out)

Skyworthy is a journaling game of iconic Skyships, the Captains who fly them, and their adventures and struggles, made for one player.
Play from the point of view of the Skyship, commissioned and constructed in a gilded age of exploration and discovery. Under the command of your Captain, fly into the unknown as all around you time passes and the world changes.
Skyships are built to last. Captains will come and go as they age, sicken, retire, tearfully sell you, or die by the hands of their enemies. Still, you will sail on.
The name on my stern and the marks on my mast,
I carry the names of friends so long passed.
My heart longs to join them, to fly ever free.
I remember my Captains, do they think of me?
Through natural disasters, the rising tides, and the coming of the Coalition, desperate to conquer the modernizing world, you will change hands. You will become a fulcrum with which your Captains fight to change the world, or rule it, or just find a way to make it through. Still, you will sail on.
But you will not go unchanged. Every Captain and crew will leave their mark on you, even as the years seek to leave their own. You will be a monument to their lives, their adventures.
A hand on my wheel comes as light as a ghost.
A memory of the one who loved me the most.
I carry it with me as onward I roam.
I'm only a hull, but once I was a home.
When the final Captain steps off of your deck to take their leave forever, you'll be left with the story of your Skyship; a remarkable creation with a rich history that you can port into your other tabletop roleplaying game, story, or art of choice.
Content Warning: Skyworthy has the potential to explore themes of abandonment, loss, neglect, violence, and human mortality. Please play safely, and understand that this game tends to be bittersweet. It has made many players cry on a number of occasions.

How to Play
Skyworthy is a journaling game, played using an oracle system driven by a deck of standard playing cards. Your Captains, story beats, modifications and upgrades, are all left up to fate with the built-in system. However, at any time, you are welcome to forego leaving the next leg of your journey to chance and simply choose the prompt or outcome that is most inspiring to you in the moment.
"Songs against the tide. What motto or song always unites your crew when all looks lost? Who sings it to you for the last time?"
There is no telling where your story will take you. In this game you will sail through time, played out in four distinct eras, beginning with your commission. As you pass through the hands of multiple Captains and their crews, how you began has little bearing on how you will end.
You may begin life as a shining luxury vessel for a wealthy noble, or as the sleek smuggling ship of a famous explorer. You may end your story as a retrofitted and scarred beast of war; one who fought valiantly against the Coalition before falling into disuse and being acquired inexpensively by a ruthless bounty hunter. You will become a collection of memories, perhaps left adrift at sea, or buried there, dry docked, or placed in a museum.

Project Details
We partnered with our favorite team over at Colmena de Papel (https://www.colmenadepapel.com/) to fill Skyworthy with gorgeous new custom artwork of iconic Skyships by Dani Jimbert, as well as to have Skyworthy translated into Spanish for publication and distribution by Colmena de Papel in Spain soon!
Specs: This game is printed as a classic stapled-spine zine in full color, on 48 premium half-letter pages with a heavy cardstock cover.


Reviews and Remarks
"Taking the perspective of the Skyship is brilliant and allows one to truly experience a "life" through the many iterations of captains and crews that inhabit your decks. The prompts, which are determined by using a deck of cards in some cases, are well thought out and provide so much opportunity for you to be as creative as you want…" -Faded Quill Gaming
"...I almost always have to feel inspired to write fiction, and I'm always skeptical of things designed to give me inspiration because so many times they fail to do so, but not Skyworthy. Skyworthy took Bucket of Bolts and expanded on its foundations, broadened the scope to tell "a story" and not just "the story of an airship", and did so in a way that alleviated the feeling of arbitrary decision making that I usually get from solo games..." -Lone Gunman
* * *
Purchase Options
Digital Copy: $15
This is for the PDF of Skyworthy. Support the project at this level and receive a completed PDF copy of Skyworthy.
Physical Copy Pre-Order, *Includes US Shipping: $24
This level is a printed, handmade copy of Skyworthy in full color zine format with a classic stapled-spine, as well as a PDF copy. We ship packages at the beginning and end of each work week.
*International Gamers: If you are outside of the US please add a $10 "tip" for additional shipping costs and be aware of any additional costs your country may apply.

If you have any questions you can use the contact form at acoupleofdrakes.com or email us directly at acoupleofdrakes@outlook.com.

Purchase
In order to download this game you must purchase it at or above the minimum price of $15 USD. You will get access to the following files:
Physical Copy
Support this game at or above a special price point to receive something exclusive.
The Friendly Skies (Community Copies!)
If you're cagey about pledging your hard-earned dollars, the ones you might need to put up toward rent or food or the other necessities of life, grab a copy and have fun, on us. If you like it and want to donate later to say thanks when circumstances change, we'll put up another community copy for someone else to enjoy.

We'll also be adding community copies whenever someone purchases "Skyworthy" above the posted price.
Physical + PDF Copy (Includes US Shipping)
All copies physical copies of Skyworthy are hand-made full-color 5.5x8.5 inch staple-spine zines printed on premium paper.
Remember to include your mailing address in the response field to ensure prompt shipment and delivery!
Comments
Log in with itch.io to leave a comment.
Is this an airship version of Bucket of Bolts?
In many ways, yes! It's built on the same architecture, but with some additional noodly variation of our own.